In this article we will discuss post-merger integration. The following is a brief look at the M&A market.
In 2021 there were around 3,000 takeovers and mergers in which a German company was involved. Excluding the takeover of eastern companies in 1990, this represents a new record.
With a takeover, synergy effects created can lead to a better market positioning and continuous growth provide. But historically, only slightly more than half of all corporate acquisitions achieve a positive result. The ability to integrate the new systems into the existing company represents one of the most important factors in the M&A process is a major challenge. Therefore, post-merger integration is examined in more detail below.
Don't have much time to read? Then read this summary:
The process after a takeover - the post-merger phase - should not be limited to the organisational and technical sides be limited. Rather, it should include the different corporate cultures. The new culture must be lived by all employees. Only then will it be effective and lead to the desired economic success.
An experienced Company sale consulting can offer valuable support through his project experience. In conflict situations, for example, he can act as a mediator and moderator to positively influence the Integration management have an impact on the merger of companies.
Table of contents
Definition: Post Merger Integration (PMI)
Post-merger integration describes the organisational merger of two or more companies after they have been merged into one legal entity. This process can be considered complete as soon as all companies are merged into one Uniform structure without redundant processes have been transferred. Colloquially, the term is often used to refer to everything that has to be done and solved after a company transaction within the framework of the new ownership structure.
Post-merger integration is a long process within M&A procedures, so it is advisable to set up a separate organisational unit for integration management. This is usually assigned to project management. The task of integration management is to support integration in the Company acquisition coordinate and create a holistic structure from the individual processes of all companies.
The Post Merger Integration Process
The post-merger integration process after a successful Company sale is typically divided into three phases, with the name and content differing slightly in different models. Essentially, there is a planning phase, a plan implementation phase and a change/transformation phase.
Die Post Merger Integration Phasen
In the Planning phase goals have to be defined and all issues identified that are to play a role in the 'new' company or ownership structure. The new company or the new ownership structures should play a role in this. It is better to be thorough and detailed here. The list of important issues can always be reduced in the course of the process, but it is more complicated to include completely new concerns. Based on the issues to be addressed, the integration team is created.
This should have a multi-level hierarchy with clear competences. Alternatively, modern and contemporary circle structures can integrate all affected employees into the processes according to their competences and skills. This has the advantage of using the swarm intelligence of existing resources and creates a shared responsibility of all actors for success. Nevertheless, the culture must be in place for this to happen or the new owners courageously use the change to implement new leadership models.
Would you like to know more about Company succession, process knowledge and entrepreneurship read?
Basically, a culture of discussion should be created that allows as many scenarios as possible to be thought through. A Project organisation plan helps to divide the individual topics into different work packages, prioritise them and assign them to teams. Interfaces between different processes can already be identified here, which can later lead to synergies or problems if they play a role for the same or opposing goals.
In the Project implementation phase the individual work packages are processed. As with all projects, success control is crucial for efficient implementation. Furthermore, the earlier problems and friction points are identified, the easier they can be managed.
In the Change/Transformation Phase competence is transferred from the integration team to the regular managers. While the integration team only creates the structures for change, change management is called for in the third phase. Here, the planned changes are to be transferred into day-to-day business. Already at the beginning of this phase, soft factors such as corporate culture, commitment to predefined processes and communication can be shaped. Because change management only works if people are involved.
Duration and effort are often underestimated
Viele Probleme bei und nach einer Unternehmensübernahme lassen sich auf einen Fehler zurückführen: Das Underestimating the effort and duration of integration. Planning in which every process in the company is scrutinised requires a team that is completely focused on this task. However, the time involved should not be underestimated. Therefore, planning should not be started too late.
However, the duration of integration also includes the time it takes for the change to become part of workers' behaviour. Therefore, integration must not be declared over too quickly. Because if people feel that they are not fully integrated, the Corporate culture in the negative tilt. Therefore, the post-merger integration should be accompanied by a team in the long term.
Post Merger Integration Consulting
Post-merger integration has an influence on many hard and soft factors. These can change for the better or for the worse. For many companies, post-merger integration is not routine, so it can make sense to bring experts on board. They can ensure that the first two steps, the planning and the implementation, are carried out in the best possible way. As structured and holistic as possible be carried out. Because in large projects, every mistake that has crept in at the beginning takes its revenge. An experienced integration team can eliminate many problems as they arise. Every transaction only makes sense if, taking into account the human factor, a refinancing of the investment can realistically be achieved.
Depending on requirements, the third phase can be M&A consulting be accompanied until all processes are fully integrated. An external and thus objective perspective is particularly advantageous for the employees. Since personal differences from the past have less influence on decisions, no one feels 'sidelined'.
Many bosses of small and medium-sized enterprises feel a responsibility for their employees and everything they have created. If objectified integration takes place, the "new" employees feel much more valued and integrate more quickly into the new company.
Die wichtigsten Post Merger Integration Aufgaben
Die wichtigsten Aufgaben einer Post Merger Integration sind immer gleich: Zuerst müssen die Hard business factors be integrated. This is the corporate organisation and structure. In order to accomplish this, the Task planning, dovetailing of organisational areas and the filling of management positions.
After that, it is a matter of soft factors into the foundation that has been created. The two core tasks here are process design and shaping the corporate culture. It is particularly important to bring together past and present and define a common future together with all those concerned.
Post Merger Integration Management
Das Post Merger Integration Management sowie ein gut geplantes das Post Merger Integration Projekt, hat die Aufgabe, den Übernehmer und das Unternehmen zu verbinden, aber die Beteiligten nicht zu überfordern. Gehen Sie langsam und behutsam vor. Verschaffen Sie sich einen Überblick und gehen Sie nach einem erfolgten Company acquisition erst mal kleine Schritte. Dabei kann die Ausarbeitung eines Post Merger Integration Projektplan helfen. Wenn Sie nach einer Zeit das Vertrauen gewonnen haben, können Sie die Laufschuhe anziehen.
Strengthen or restructure the management organisation
Depending on the acquisition project (strategic or MBI = Management Buy In) tasks must be redefined between individual organisational units, competences and responsibilities must be clarified.
Durch Post Merger Integration Jobs von Leistungsträgern sichern
Nicht selten hat eine Übernahme zur Folge, dass Leistungsträger, Führungskräfte und Mitarbeiter sich mit Abwanderungsgedanken tragen. Erfolgreiches Post Merger Integration Management bindet daher diesen Personenkreis rechtzeitig an das Unternehmen. Suchen Sie proaktiv das Gespräch mit den Leistungsträgern in Schlüsselpositionen.
Define and leverage synergy potentials
Integration management regularly has to answer the question of which processes or parts of processes can be taken over, redesigned or merged in order to make the company more efficient. Strategies also have to be adapted to meet the new structures and ideas of the owner.
Stimmungslage mit dem Übergeber sichern
In many cases, the transferor is involved in the integration phase, either because he or she helps to make the financing possible (e.g. by means of a Seller loan) or he himself continues to manage the company operationally for some time. A respectful and trusting relationship with the transferor is necessary to make the transition as smooth and efficient as possible.
Post Merger Integration Erfolgsfaktoren
1. Post Merger Integration Projektplan
Ein wichtiger Post Merger Integration Erfolgsfaktor ist der Post Merger Integration Projektplan. This brings a structure to the project and can help to identify problems and eliminate them. The importance of prioritisation should not be underestimated, because any Fully integrated organisational unit generiert Informationen, die für den weiteren Prozess genutzt werden können.
Ein Beispiel hierfür ist das Rechnungswesen. Im internen Rechnungswesen werden Informationen für die Corporate governance generated. Key figures can be used to identify successful and problematic business areas, processes and products. A poorly integrated accounting system cannot do this, even though integration offers the possibility of addressing precisely the problem cases.
2. Der Faktor Mensch
Ein nicht zu unterschätzender Erfolgsfaktor bei der PMI ist der Man. People orient themselves through their needs in connection with their work. Because inner satisfaction, self-efficacy, status and income depend on your job. Changes at work worry many workers. But for the success of a company, a Positive working atmosphere and a healthy work culture essenziell. Daher gilt es, die Arbeitnehmer mit in den Prozess zu integrieren. Während bei Akquisition der Stakeholder-Value im Vordergrund stehen sollte, gilt es bei der Integration auf den Shareholder-Value zu achten. Daher sollte das Post Merger Integration Management eng mit dem Stakeholdermanagement zusammenarbeiten.
3. Offenheit für Veränderung und Agile Transformationen
Many companies are in favour of a Change in corporate culture not ready. Therefore, they cling to old structures that are either outdated or soon will be. For there are changes on the horizon. These include the Digitalisation, the home office and consideration of environmental influences im Unternehmen. Diese Aspekte werden seit Jahren diskutiert, sind aber erst durch die Corona-Pandemie in den Fokus gerückt.
Bei einer Post Merger Integration gibt es keine Denktabus. Notwendige Transformationen müssen antizipiert und mit den betroffenen Mitarbeitern integriert werden. Auch wenn dabei Bereiche komplett verändert werden, kann das die zukünftige Wettbewerbsfähigkeit deutlich steigern. Ein agiles Vorgehen kann hier der Schlüssel sein. Der Nutzen und Sinn muss zugleich transparent nach INNEN und AUSSEN kommuniziert werden.
4. Die Planungsphase bereits während der Due Diligence planen
Before companies are merged or a company is realigned with the successor, a Due Diligence takes place. This serves to examine the risks of the merger or acquisition. This audit is the optimal timeto determine the most relevant areas for integration. In this way, the time until Closing of a transaction can be used with the integration planning. This also allows the integration to be initialised as quickly as possible and no time is lost. Many companies underestimate the duration of integration. The time of full functionality is thus significantly delayed.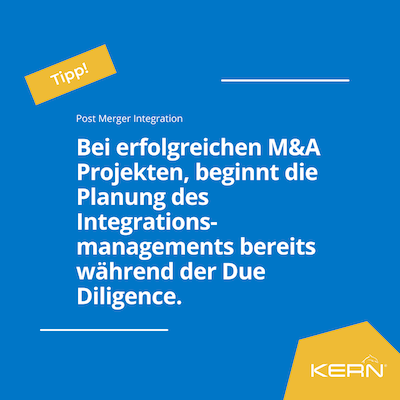 Conclusion
Post-merger integration decides whether an investment worth millions pays off or fails. On this occasion, the company can be completely redesigned. However, it is important that the Core competencies and the people should not be forgotten. Thorough project planning is essential for success. With professional advice, a company can benefit from the experience of past integrations. In this way, the transformation can be approached in a more structured and holistic way.